Take this carved deer for example
. This was Steve's nod to my more decorative nature.
Steve is planning to make all
the furniture in our house
,
one piece at a time
.
He likes arts and crafts style furniture and initially I felt it would be just too much to have
entirely arts and crafts style furniture
.
I have since changed my tune a bit- I have been "assimilated" since those early days.
He got the design from one of our picture books,
In The Arts & Crafts Style
.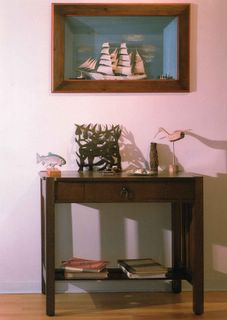 One of the things I really love about the arts and crafts style and movement is the emphasis on simplicity and the quality. I like the whole idea of things being made to last and not to toss in the trash every few years- less landfills for one thing! And to top it off, it fits perfectly with our Chicago-style 2-flat!