Let me preface it by saying it's kind of a silly one.
I'll start by saying that anytime we have gutted a room there's always the small hope that we'll find something cool in the walls or under the floor etc... I know some among us (I won't name names you know who you are) didn't even have to take a wall down to find a slew of mementos, but others would love to find a little something echoing back to simpler times.
Here's my first question, what if anything have you found in the de-construction of your home? I thought it might be fun to hear. Our 2-flat was a rental for a number of years. We have found some old newspapers in the walls. But, the funniest "relic" or leftover from previous tenants is this cabinet in the basement that somebody kind of graffitied in permament black marker. There's a picture of a kind of fu-man-chu guy and
Latin King symbols
and it says "King Choco."
So maybe we had an aspiring Latin King member living in our basement- nice. And I don't mean "king" as in royalty. Somehow this isn't the quaint kind of thing we'd hope to find...
Anyway, let us know what you found if you care to share. Part two of this question coming soon...
A photo of "King Choco" for posterity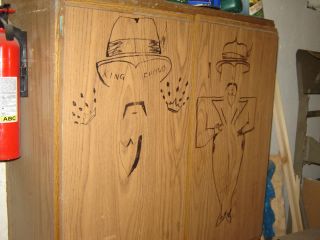 P.S. As long as the plumber shows up we will have a working kitchen sink and dishwasher today when I get home from work. I think I'll just lay on the kitchen floor chin in hands and watch just cause I can. ;)